Paperback book explaining the process of chemo-therapy in a child's language, with lots of colourfull drawings, made by FMKB.
Used in all the Childhood cancer treatment facilities in Denmark and Norway to explain children what is going on in they're body, and why it necessary to receive Chemo-therapy.
Now available in Ukrainian language.
Please send mail to: info@fmkb.dk for requests or orders regarding this book.
Edition of WIR by Deutsche Kinder Krebs Stiftung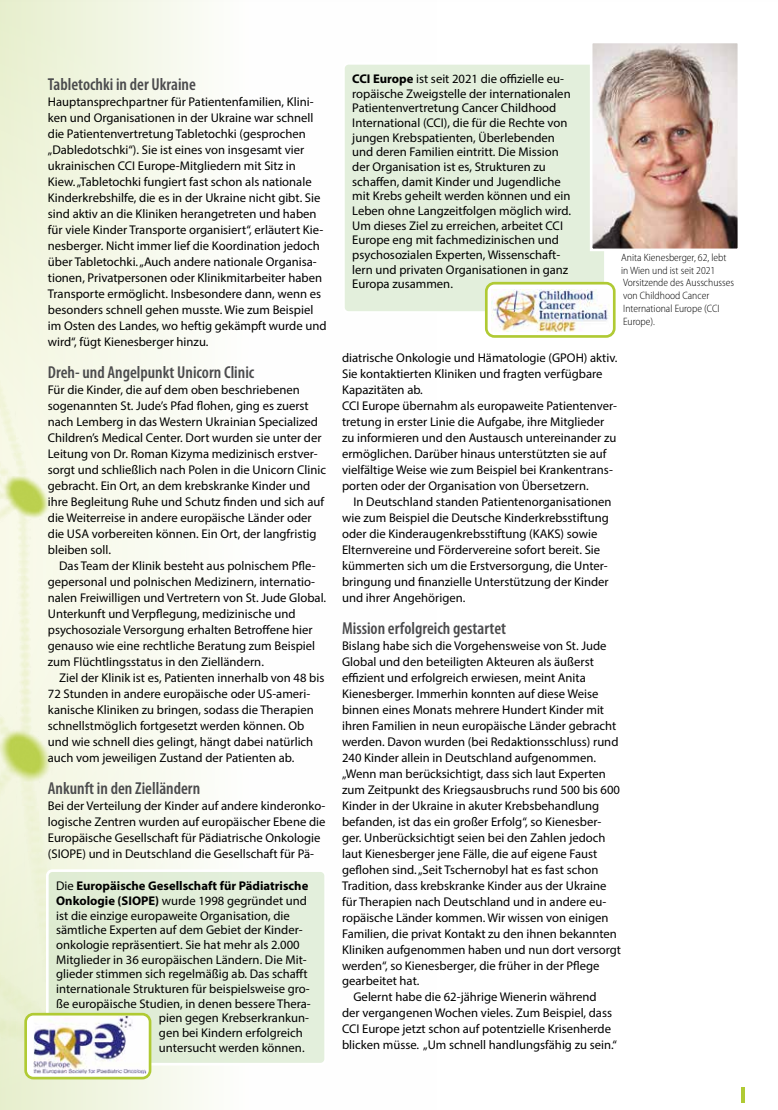 Importance of a collaborative work during a crisis was highlighted. in this edition of WIR, published and created by Deutsche Kinder Krebs Stiftung,
DKKS in this edition lists more resources that can be useful to you.
Read here the full ariticle (in German).
Unicorn Clinic "Welcome Brochure"
This is official "Welcome Brochure" from the Unicorn Clinic in Poland, with essential info for incoming families to the Unicorn Clinic.
Download the broshure here in English.
Це офіційна «Привітальна брошура» від клініки Unicorn в Польщі з важливою інформацією для сімей, які прибули до клініки Unicorn.
Завантажте брошуру англійською мовою тут.
Tabletochki – one-pager for families abroad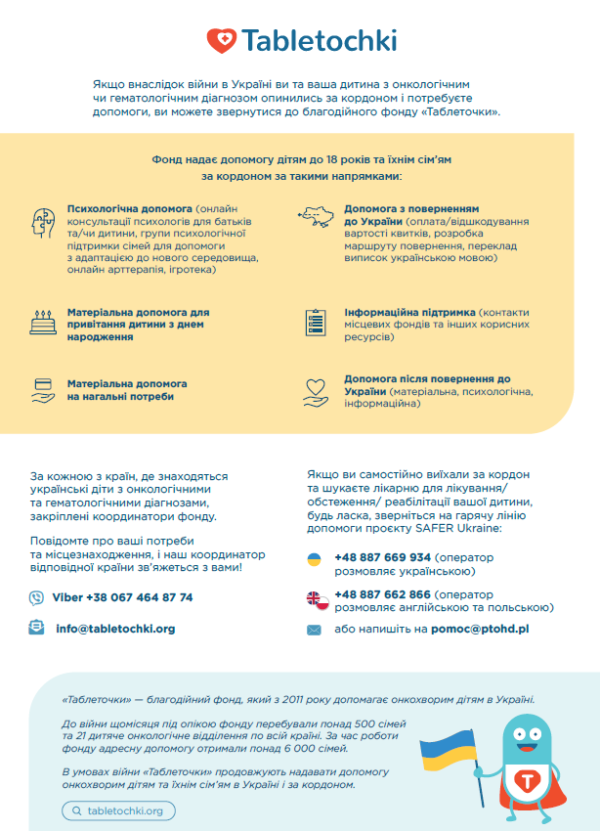 Tabletochki prepared a one-pager (in Ukrainian) for Ukrainian families with children with cancer who are currently abroad.
Enumerated are the types of help Tabletochki is ready to provide (financial assistance, online psychological counselling, back transfer to Ukraine, etc.), contact details, as well as the Polish hotline details.
Download the flyer here.
Here you can download a free picture dictionary, created to make communciation easier for families you are welcoming. You have several languages to choose from. Link here.
Visual resources for children and their families facing childhood cancer by Angus Olsen
20 books on various pediatric oncology subjects that are available in many languages, as well as Ukrainian. Take a look at them! Link Here.
Language interpretation tools
All the tools are sorted by
Title
Type of resource
Explanation
Language
Year of creation
Authors
Link